1 Shorinji Kempo has the following six characteristics: ken zen ichinyo, riki ai funi, shushu koju, fusatsu katsujin, go ju ittai, kumite shutai
2 "Riki ai funi" expresses the proper way to act and to live.
"Ken zen ichinyo" expresses the training method for making this way of life your own.
3 In the process of technical training, one must set one's heart on these four characteristics: "shushu koju," "fusatsu katsujin," "go ju ittai," and "kumite shutai."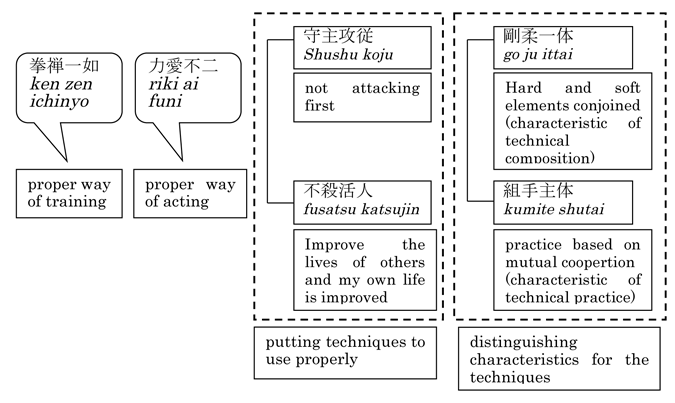 ◆ How to train both body and spirit: ken zen ichinyo (unity of ken and zen)
 The first distinguishing characteristic of Shorinji Kempo is "ken zen ichinyo." Ken refers to the fleshly body, while zen refers to the mind and spirit. Often we are tempted to think of body and spirit as separate entities, but actually this is not so. When something surprises us, the heart races. If we get sick, not only our bodies but also our spirits fall, and we no longer find ourselves desiring to do much of anything. So it is that our bodies and spirits are closely intertwined. When we train in Shorinji Kempo, it is important to keep a balance between the physical and spiritual training.
 Shorinji Kempo is not just a theory of mind, nor is it a way of achieving spiritual contentment simply through physical hardship. Training in Shorinji Kempo is a method for nourishing both body and spirit alike through examining oneself and unearthing the possibilities within oneself. This is "ken zen ichinyo."
◆ The principle and basis for action in Shorinji Kempo: riki ai funi (strength and love in harmony)
 The second distinguishing characteristic of Shorinji Kempo is "riki ai funi." The idea here is that no one can live in happiness with only love and compassion; intellect and strength are necessary as well. If you see others being tortured, your love and compassion may make you want to help them, but if you lack courage, power, or a way to take action, then you cannot help. Conversely, strength without love or compassion is nothing more than violence. To overcome injustice or corruption, one first needs the ability to evaluate the good and bad, then the knowledge of how to judge the situation and how to use one's abilities, and then the courage to stand up to face danger.
There is a saying—"Justice without strength is powerless. Strength without justice is violence." As kenshi, you should harmonize your strength and love, unite your intellect and compassion, and then―using these as the foundation for your actions―you should make your own life a stable and happy one and contribute actively to the peace and wellbeing of society.
◆ The proper way of training to improve techniques and character: shushu koju (defense is primary, offense subordinate)
 The third distinguishing characteristic of Shorinji Kempo is "shushu koju." The technical methods of Shorinji Kempo are structured so that they begin by defending against the attack, and after completely protecting oneself, then counter-attacking. This is because that to ensure that its teachings are righteous in nature, Shorinji Kempo is based on the idea that a martial art should only be used to defend against violence. For this spiritual reason, one should not thoughtlessly strike the first blow. There is a technical reason, too, in that making your position impregnable allows you to seize the advantage that comes when your opponent makes the first move.
◆ Fusatsu katsujin (not to kill, but to awaken)
 The fourth distinguishing characteristic of Shorinji Kempo is "fusatsu katsujin." The physical techniques of Shorinji Kempo are not for killing or injuring people. They are for protecting yourself, helping other people, and improving people's lives. The techniques of Shorinji Kempo are effective in causing intense pain that makes people lose the will to kill. This is done by attacking pressure points identified by the meridians of Oriental medicine, based on thousands of years of tradition. Moreover, rational use of tactics, techniques and strength based on the principles of the discipline allows one to gain large effects from small amounts of force. Thus the art aims always to work for the good of people without killing or injuring anyone. Fusatsu katsujin is also important from the point of view of Shorinji Kempo's status as a gyo for developing individuals.
◆ To meet various attacks: go ju ittai (hard and soft make one whole)
 The fifth distinguishing characteristic of Shorinji Kempo is "go ju ittai." The goho (hard methods) include strikes, kicks, hammers, chops, and evasions. The juho (soft methods) include defenses, releases, and joint reverses. Although goho and juho each mobilize their own elements, they supplement and reinforce each other to become even more effective. This is what we call the go ju ittai of techniques. Beyond this there are elements of juho within the goho and elements of goho within the juho, which we call the go ju ittai of application.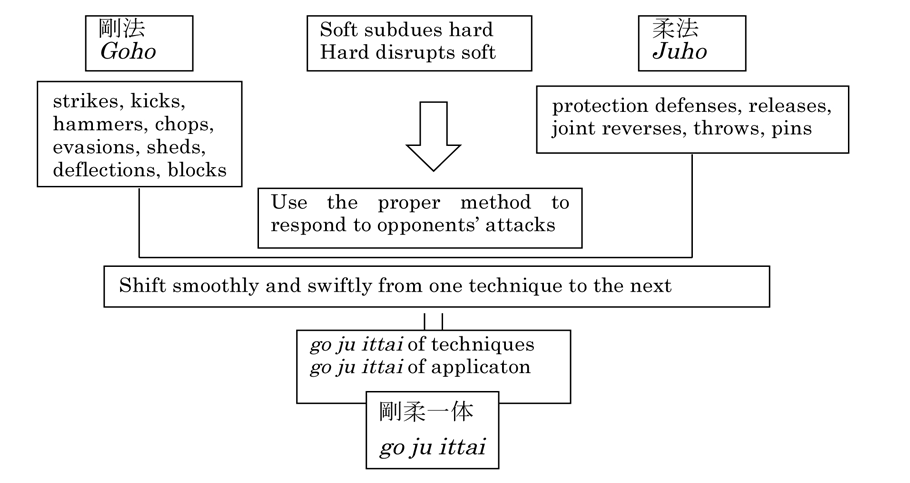 ● Relation of the hard and soft aspects of the art ―― "lips, teeth, cheekbones, gums"
 One can compare these two aspects to the relation of teeth and lips. The lips are soft, with no ability to bite through things or chew them up as the teeth do. However, with teeth but no lips, food would fall out of the mouth and one would be unable to eat anything. Only with the help of the lips do the teeth begin to accomplish their purpose.
◆ A training system for strengthening one another and maturing together: kumite shutai (paired practice is primary)
 The sixth characteristic of Shorinji Kempo is "kumite shutai." In Shorinji Kempo, training in pairs is the norm. This is for the purpose of gaining skills that a person cannot learn alone, such as ma'ai and kyojitsu in offense and defense, and other conditions that arise because the opponent is moving. Also, it is not simply a matter of making oneself stronger, but of nurturing a cooperative spirit of partnering with each other and getting stronger together with friends and peers. By applying the techniques to each other and sharing the pain, you discover nuanced approaches to speed and force for your particular level. This is how two people training together leads to improvements in technique as well as improvements in character.